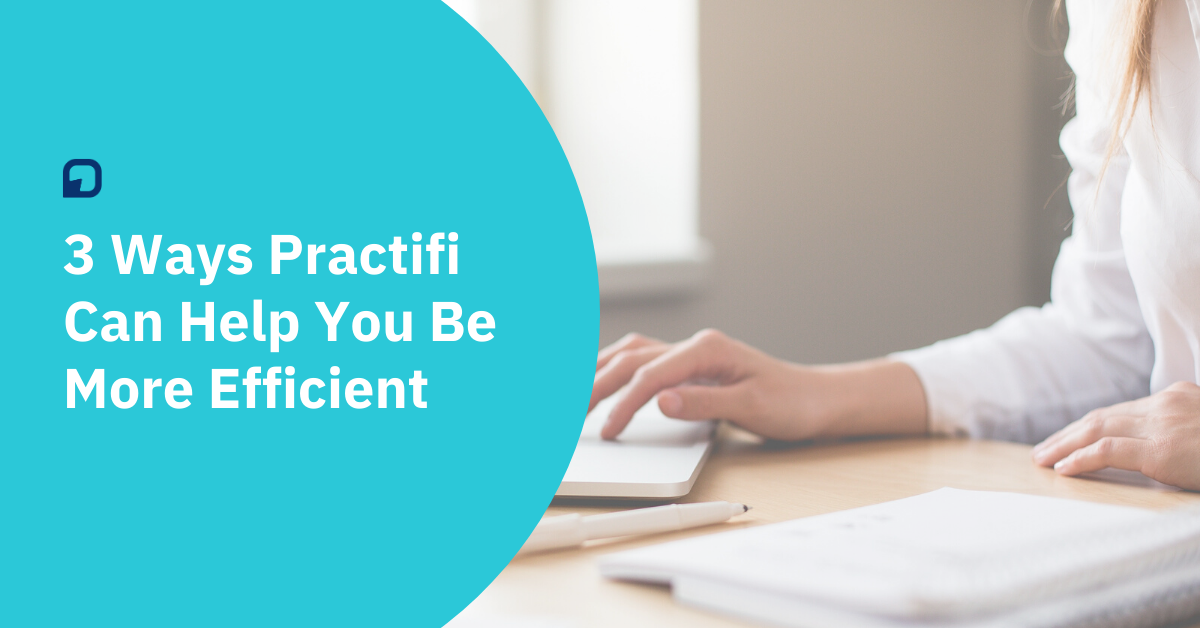 3 Ways Practifi Can Help You Be More Efficient
March 17, 2020

By Allison Lasley

What does efficiency mean to you? Does it mean less clicking, more streamlined collaboration, or getting work done faster?
As a financial advice firm, all members of your team must collaborate together to achieve wider business goals. But, things can get complicated when multiple people, processes and tasks get involved.
The productivity and efficiency of your teams are directly tied to overall client satisfaction, so how do you ensure you're making each minute count? As a core driver of our product innovation, we are constantly working towards ways to make Practifi more efficient for our users.
Here are a few key features that are helping Practifi users daily to improve their productivity and bring efficient gains to their firms.
1. User-tailored dashboards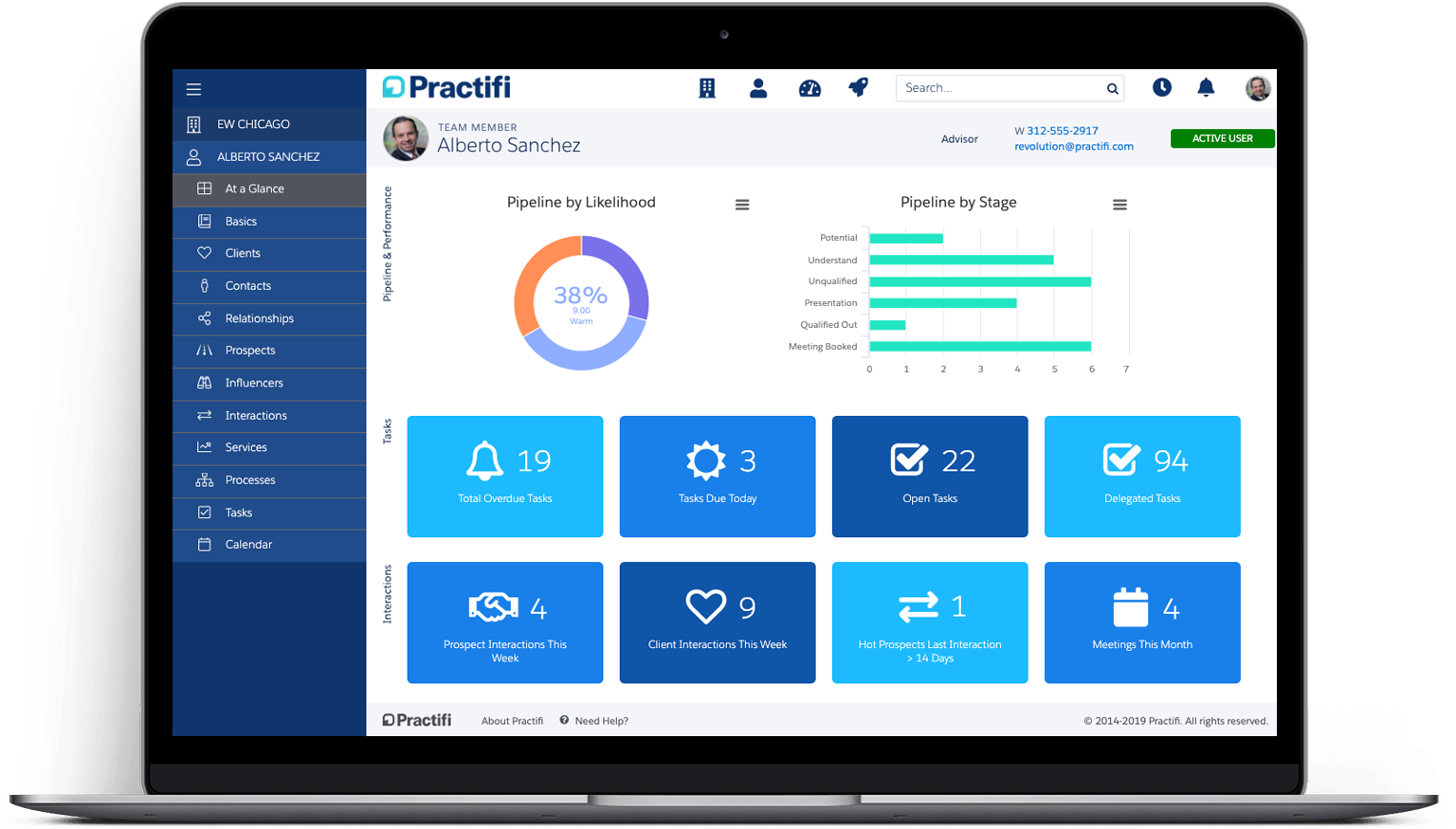 We understand that not everyone at your firm does the same job. Whether you're in financial advisory, operations, management or marketing – Practifi offers user-tailored dashboard views so each member of your team can filter out the noise and focus on the information that's most relevant to them.
Practifi gives instant access to assigned clients, key dates, tasks, workflows and analytics unique to each team member based on his or her role, so everyone can get their job done quickly and efficiently.
2. Complete multiple tasks at once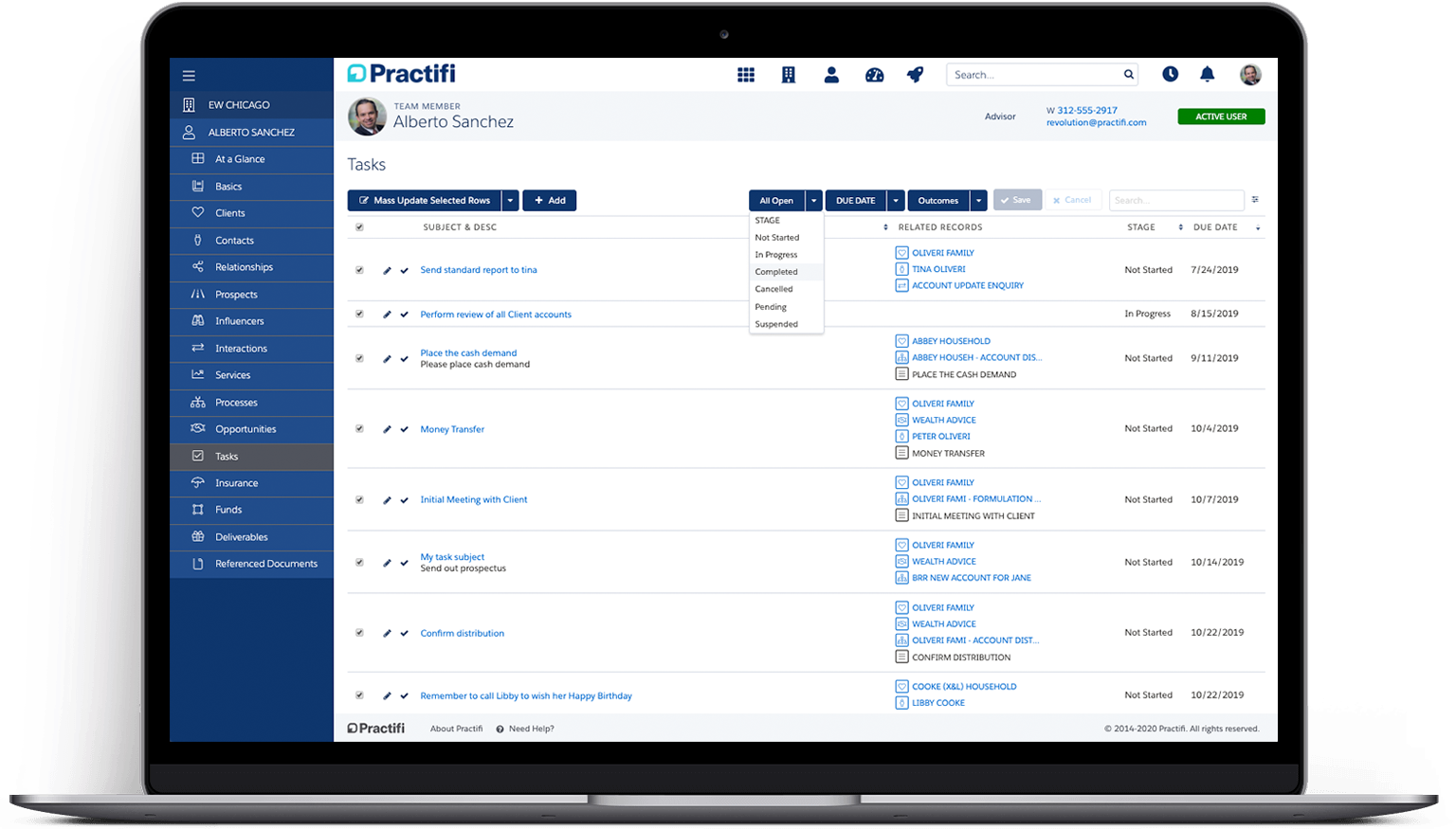 Doesn't it feel good to check off your daily to-do's? Recently improved in our Chardonnay product release, Practifi users are really enjoying our new mass complete tasks feature. Whether you're catching up on completed tasks from the week or just had an extremely productive day – we don't want to slow you down!
What used to take multiple steps and clicks, is now a simple bulk action, making it easier to smash through your task list faster than ever before. Better yet, this productivity can be tracked in Practifi's performance analytics engine for management purposes.
3. Prospect creation for mobile
Have you ever been at a networking event or conference and met a potential prospect only to misplace their details shortly after? With Practifi's prospect creation capabilities for mobile, you'll be able to capture new contact information and more, all while you're on-the-go.
By adding in a few pieces of information such as name and email, you'll be able to create a new prospect record and automatically spin-up any processes to begin nurturing the lead. How's that sound for next-level efficiency?
We're constantly innovating to continue to improve Practifi for our users. Look forward to more enhancements in the near future!
Interested in learning more?
If you're interested in learning more about Practifi product features, visit our features page for more details.
If you'd like to get in touch with a member of our team, contact us today.
Get our latest updates delivered straight to your inbox
Subscribe to our blog today.