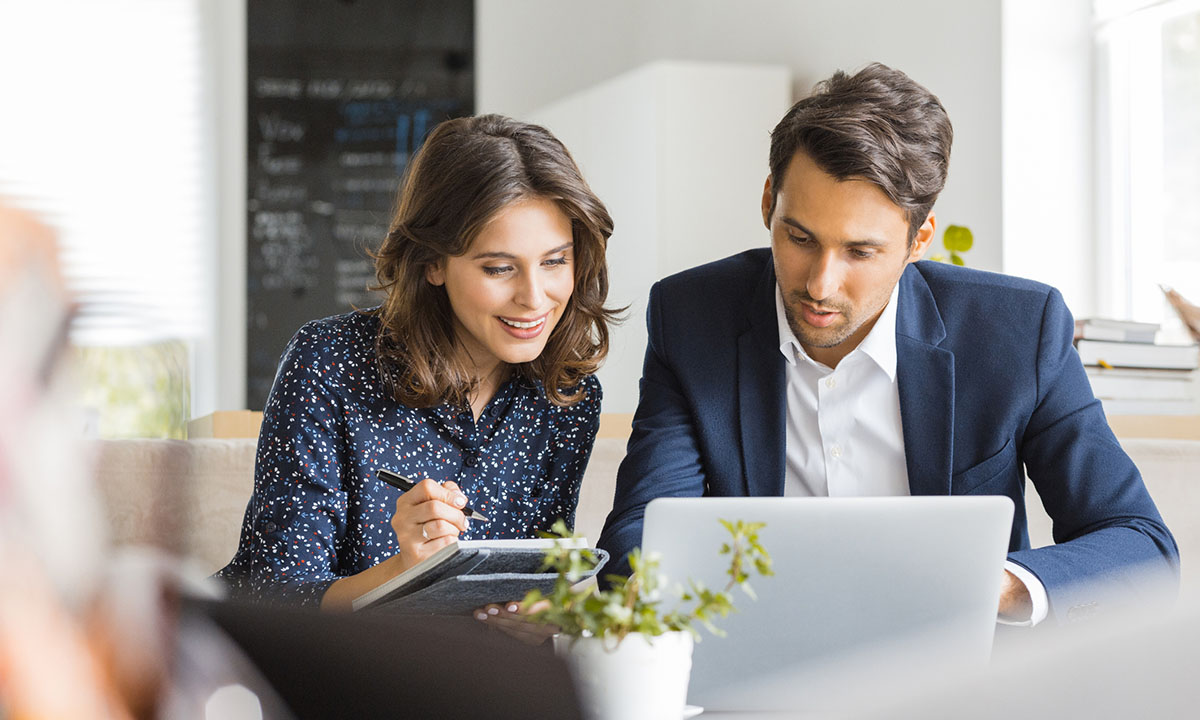 4 Ways to Boost Team Collaboration with Practifi
APRIL 22, 2020

BY ALLISON LASLEY
The quality of your service depends on the relationships you have with your clients, but when multiple team members are involved in services and processes, things can get complicated. This could result in frustrated clients or missed opportunities. That's why team collaboration is so important; to make sure no note, task or notification goes unnoticed, and to make sure all projects stay on track.
Below are just a few ways Practifi helps financial advisors strengthen relationships with their clients by enhancing team collaboration.
1. Boost team collaboration with Feeds
Do you ever find yourself searching for an old message about important client information and unable to remember where it went? Was it a text or an email? Maybe you overheard it in a conversation?
With so many places to store information these days, it's hard to keep track of important client updates. Not only that, but making sure you communicate these client updates clearly and timely with your team is crucial to providing a great service. Unfortunately, important information tends to get lost in our inboxes and long email threads.
To help combat this, Practifi's live Client Feed helps your team stay on top of important client updates.
Leave a note and @ mention team members to notify them. Whether it's related to a task, interaction or specific service, you'll be able to view all updates in real time and collaborate seamlessly with your team. Everyone will know what's happening and what needs to get done, no matter where they are or where they're working.
2. Keep tabs on clients with Mass Tagging
Have you ever found yourself working on a cross-functional project and needed to quickly and easily pull a list of a select group of clients? Perhaps to keep track of clients who play golf, the clients who love wine, or as a current example, clients who may be directly affected by COVID-19.
In general, standard filtering and segmenting options in most CRM solutions can't help you organize your clients in such detail. So, you'll likely have to spend valuable time hand-picking each client for this new list, slowing down your communication and processes.
Practifi helps you do this quickly and easily with Mass Tagging capabilities. Mass-tagging allows you to add a custom tag for multiple clients at once. This means you and your team members can pull together lists quickly and efficiently!
Set the tags, share the list, and experience a whole new way of team collaboration for client communications.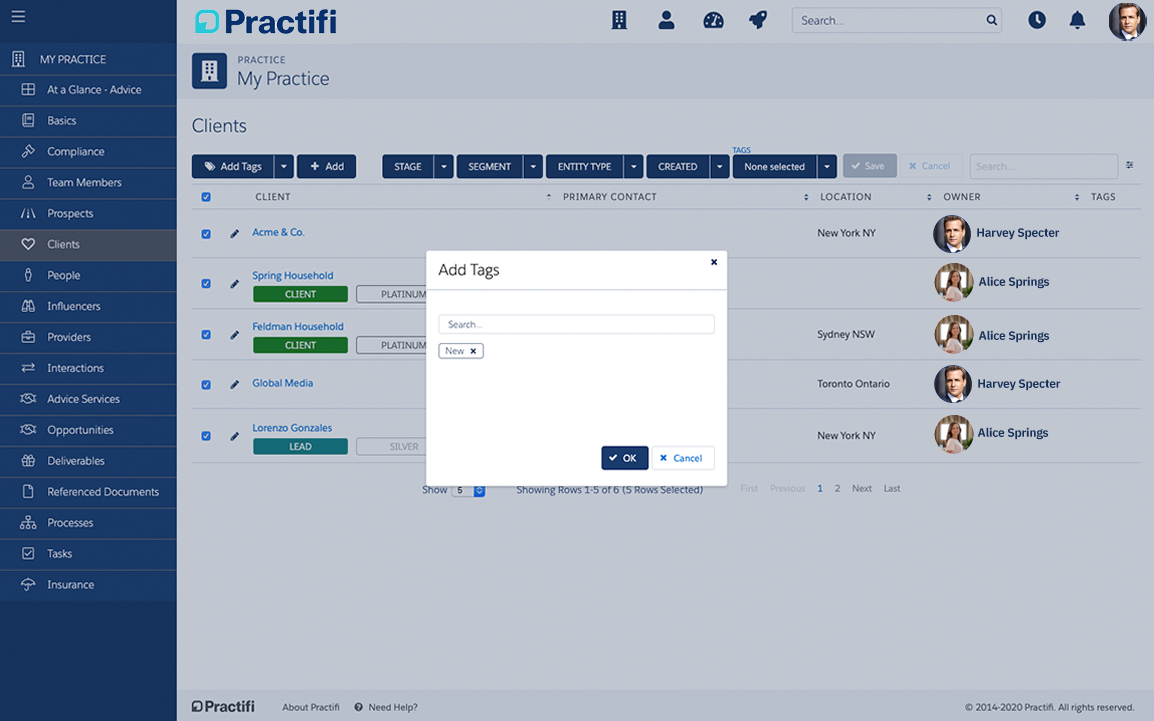 3. Auto-assign tasks in your processes
If there's one aspect of Practifi that supports team collaboration more than anything else, it's the power of automation.
Automating workflows and including automatically assigning tasks when a step is completed can make simple processes so much more streamlined for you and your team. This will boost team collaboration and help everyone move towards the end goal quickly and efficiently.
Practifi helps streamline your processes by incorporating dynamic features such as predecessor steps, branching logic and auto-assigned tasks. To see Practifi's workflows in action, check out our recent webinar: Workflows 101: How to Supercharge Your Firm's Efficiency.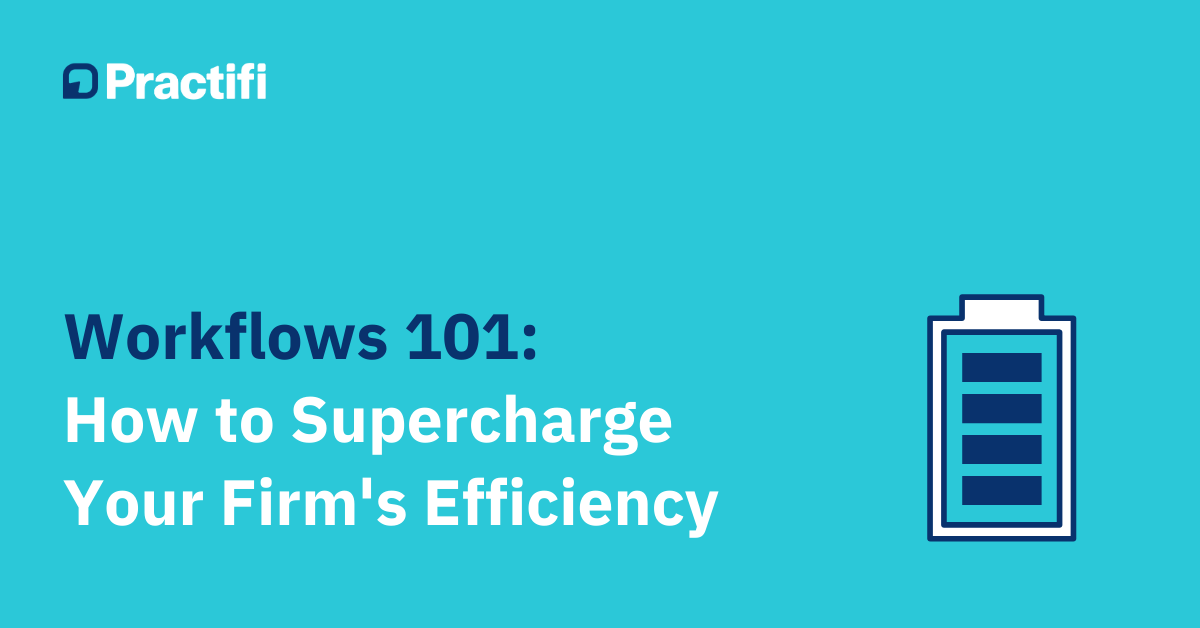 4. Stay in the loop with Notifications
This one goes without saying, but Notifications are one of the easiest ways to foster team collaboration and make sure you and your team stay in the loop on company activities.
As a foundational element of the Practifi platform, Notifications help you know when you are tagged in messages, assigned a new task, or when a new client is assigned to you. You can also set custom Notifications at an individual level to alert yourself when specific processes start or end, for example.
Notifications in our platform can be as specific or as broad as you like. Just don't forget to use one of the easiest and most useful collaboration features Practifi has to offer!
Interested in learning more?
If you're interested in learning more about Practifi product features, visit our features page for more details.
And if you'd like to get in touch with a member of our team, contact us today.
Get our latest posts delivered straight to your inbox
Subscribe to our blog today.