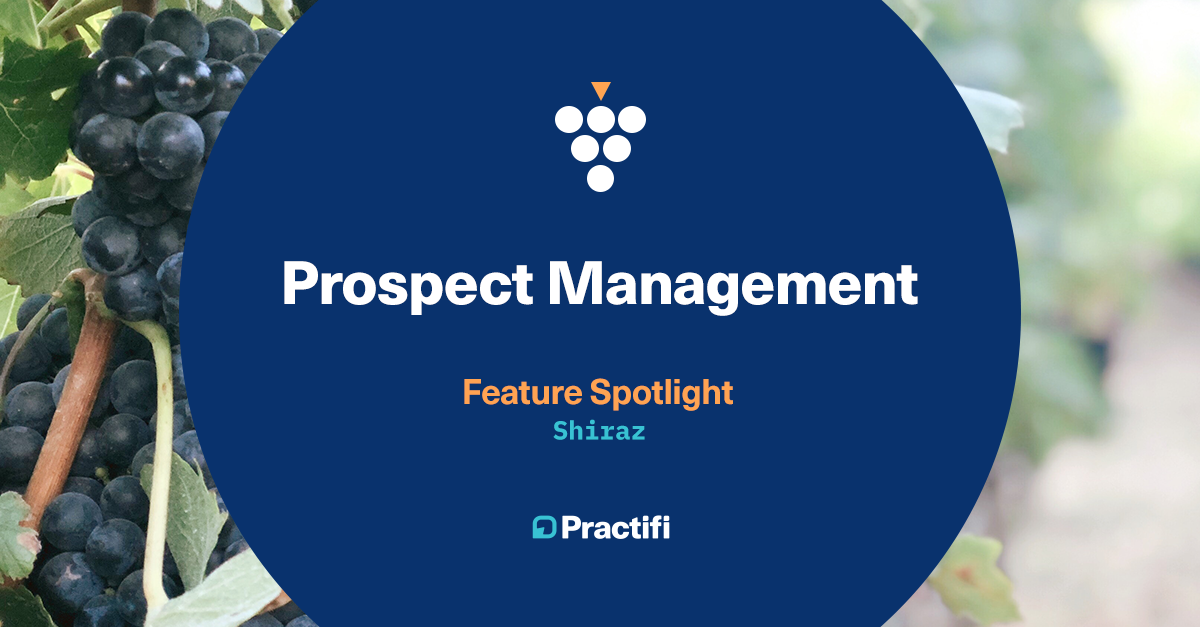 Feature Spotlight: Prospect Management
As part of our September release, we introduced brand new capabilities to our existing prospect management functions. With these new features, we've made it easier to manage and monitor your prospects and better see your full pipeline.
Below, we've listed just a few of the newest capabilities available to you through our latest release. 
The New Prospect Creation Capabilities
Improving the way prospects are created and managed is important for having accurate snapshot data and tracking pipeline performance overtime. With these new capabilities, you can create, monitor and progress your prospect records. You'll also be able to track new leads, interaction activities, assigned tasks, open processes, and then ultimately, welcome them as a new client.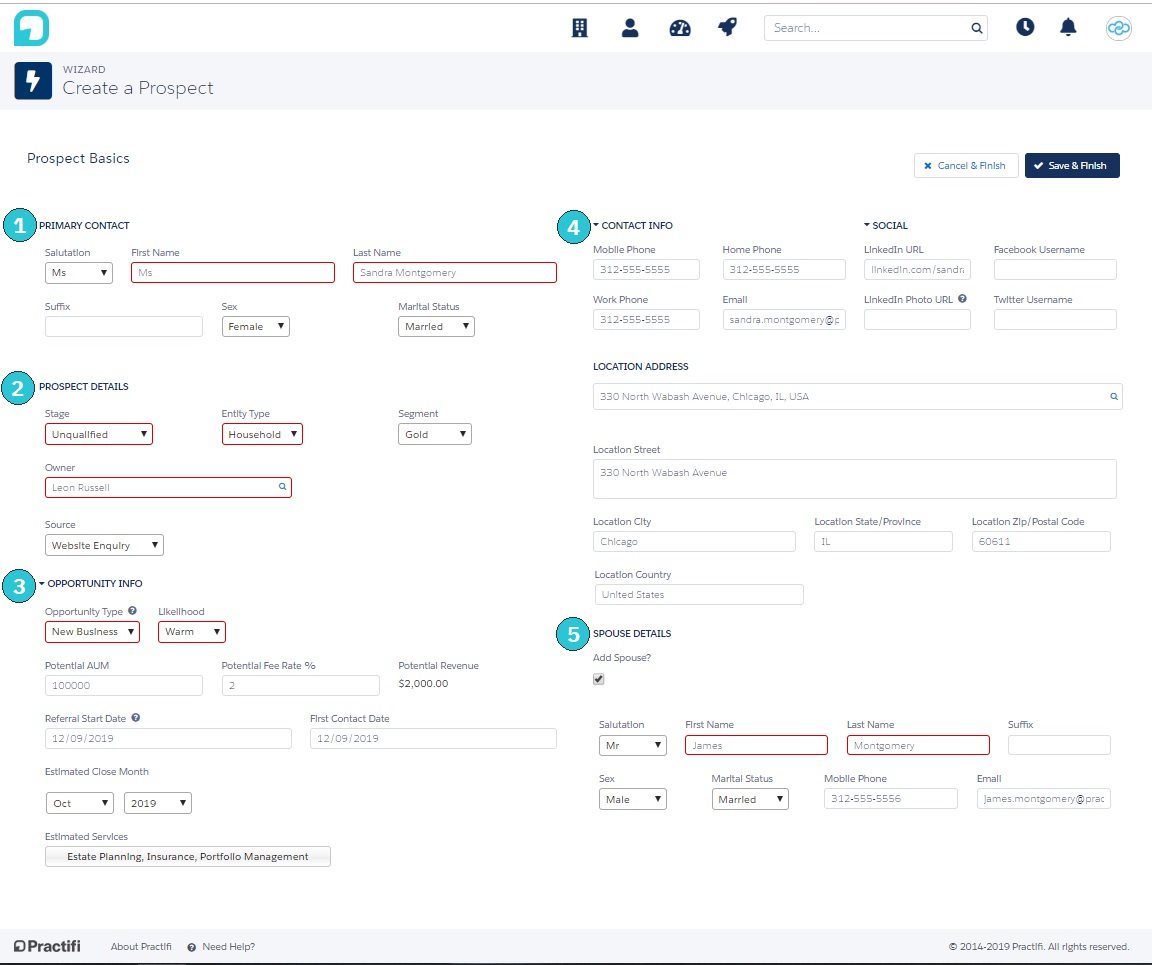 Accessible in the

Launcher

menu, this new wizard is one of the easiest ways to add new prospects. To create a comprehensive Prospect record, we suggest a few pieces of information, such as (1) Primary Contact, (2) Prospect Details, (3) Opportunity Information, (4) Contact Information, and (5) Spouse Details, if relevant. 
You can also configure these field options to ensure you're getting the most meaningful data for your business.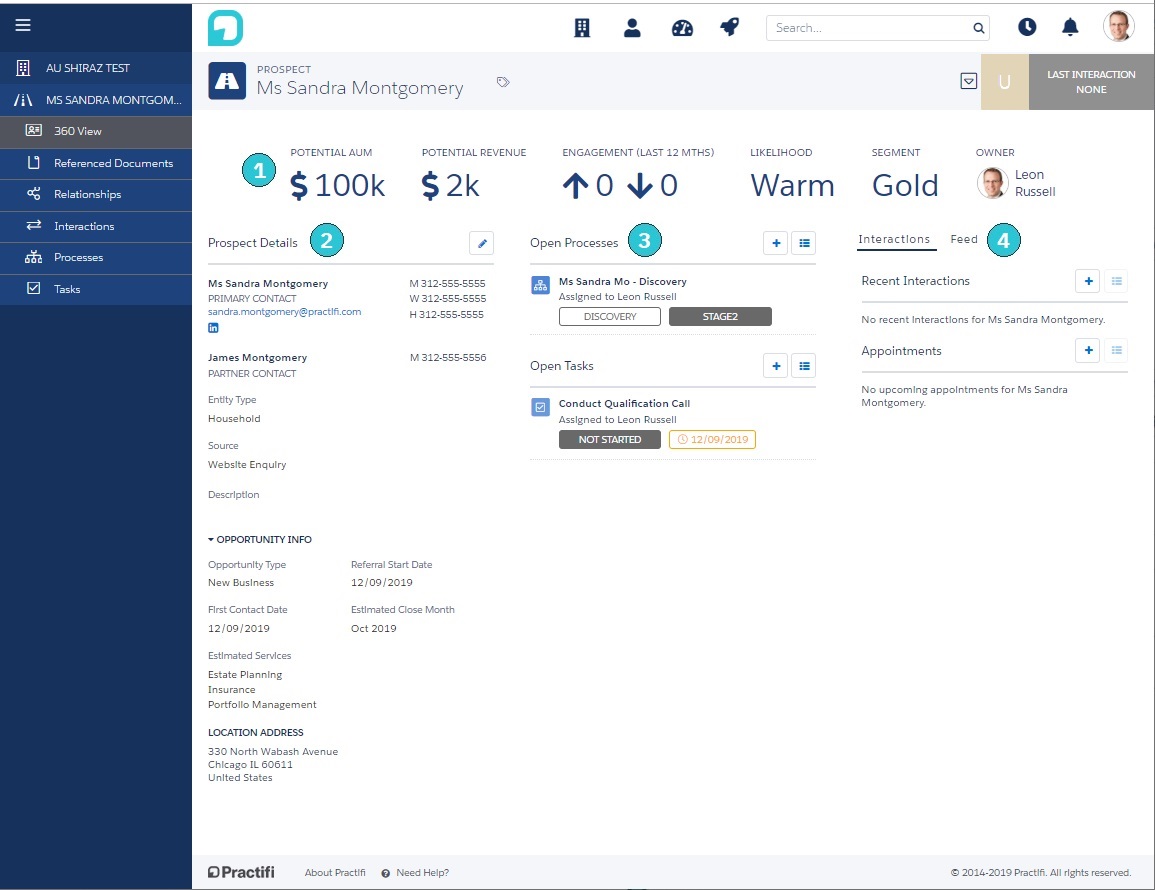 Once you've created a new prospect record, you'll be taken to the Prospect 360 view page. This page is the default landing page where you can view a prospect's key information. 
Prospect Highlights

shows all the key performance indicators relevant to the prospect.

Prospect Details

show all the details you captured in the 'Create a Prospect' wizard. You can edit these directly in this page to keep your record up to date.

Open Processes and Open Tasks

display all the related workflows and processes your practice uses for prospect automation. This way, you can quickly see the progress.

Interactions, Feed and Appointments

provide oversight into the completed sales activities and and helps you ensure the prospect moves through the sales cycle successfully.
'Promote to Client' Button

When it's time to change your prospect to a client, click the dropdown menu on the Prospect 360 page and select 'Promote to Client'. After you click this button, your prospect will convert into respective client, person and service records.
Once completed, you'll be taken to the Client 360 page with all the same record information ready for you and your team to use.
New Prospect Monitoring Capabilities
In addition to the new creation capabilities, we've also provided a few new features to help you get insight into your prospecting metrics and performance as a whole. These features will help you forecast revenue and futher manage your pipeline to drive business growth.
At a Glance Prospect Tiles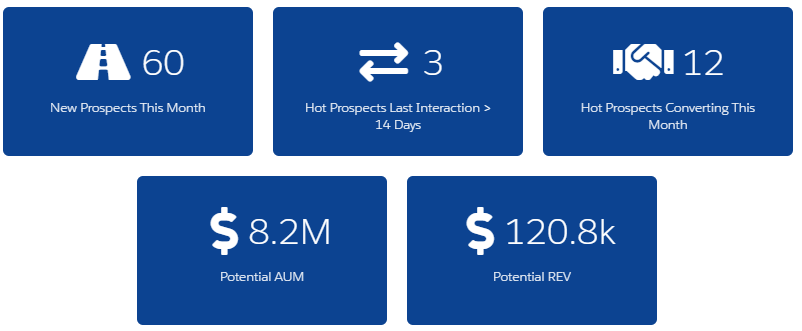 If you're already using the 'At a Glance' feature within Practifi, you'll now be able to see these tiles in the prospects row. These tiles summarize critical information to help you understand the size and value of your pipeline. They also highlight prospects that require further engagement. We've created a few helpful tiles to get you started. However, you can configure these to fit your unique business needs.
Opportunity Analytics Page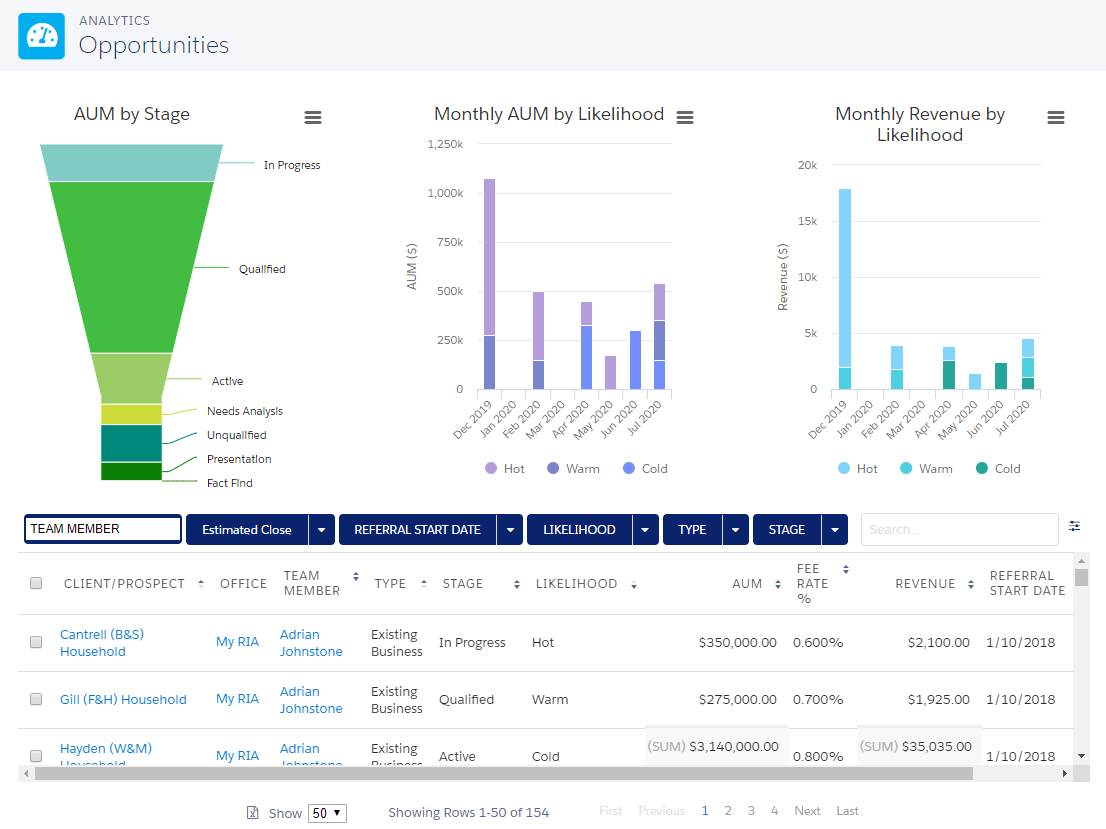 Accessible as a menu item in the Analytics section, the new Opportunity dashboard enables a deeper understanding of pipeline progress across the business over time. You can dive into the metrics you need to assess your sales and business development efficiency. This can help you to identify areas to improve your strategies and further grow your client list.
Interested in Learning More?
These new prospect features were released in Practifi Shiraz. You can view the full release notes

here

. If you're interested in learning how to make the most of these new features, please reach out to your Client Success Manager. And if you're interest in learning more about Practifi, contact us today.
To get the latest insights delivered straight to your inbox, subscribe to our blog.
Subscribe